We're willing to bet you spend a whole lot of time in your kitchen, so odds are fairly good it's also one of the most cluttered rooms in your house. Somehow, everything that doesn't have a home (and lots of other stuff that does!) seems to end up in the same space meant for cooking.
But it's a new year, so if you've vowed to finally clean up your act—and your house—we're here to help!
If the prospect of decluttering seems overwhelming, never fear. No one said you have to tackle the whole house (or even a whole room) in one go. In this weekly guide on Home Organization Made Easy, we break down this monumental task into easy, bite-size projects. Each article will tackle a particular room (starting with your kitchen), then break it down further into manageable jobs that can fit any time window you have handy. Here's how to get organized in the new year whether you've got 15 minutes—or a few hours—to spare.
Got 15 minutes?
Fifteen minutes may not seem like much time, but according to professional organizer Nancy Haworth, owner of On Task Organizing, there's actually a lot that you can get done in that small amount of time. In fact, if you can carve out just 15 minutes each day for decluttering your kitchen, you'll start seeing real results sooner than you think.

Photo by Beyond the Box

According to Haworth, 15 minutes can make a big impact on your spice cabinet—and we all have a spice cabinet that can use a bit of tidying up.
"Sort through your spice rack, and discard expired spices," she says. Most spices don't actually expire, but they do lose their flavor after about three or four years, so it's good to go through and pitch the old ones every now and then. Your cabinet will thank you—and so will your cooking.

Photo by Great Kitchens & Baths

It's also the perfect amount of time to clean out the cabinet under your sink—a place that's out of sight to pretty much everyone, so it tends to get seriously out of control.
"Remove old or never-used cleaning supplies," she says. Who needs four different kinds of stainless-steel polish anyway?
Finally, she says this small amount of time is perfect for tackling the landing spot for pretty much everything that comes into your home.
"Declutter, organize, and clear off your kitchen table," she advises. Clearing off that one piece of furniture will give your kitchen an entirely new (and much less cluttered) feel.
Got 30 minutes?
A half-hour is barely enough time to take a shower and get dressed, so how much of a difference can it make in your kitchen? Tons, according to Haworth.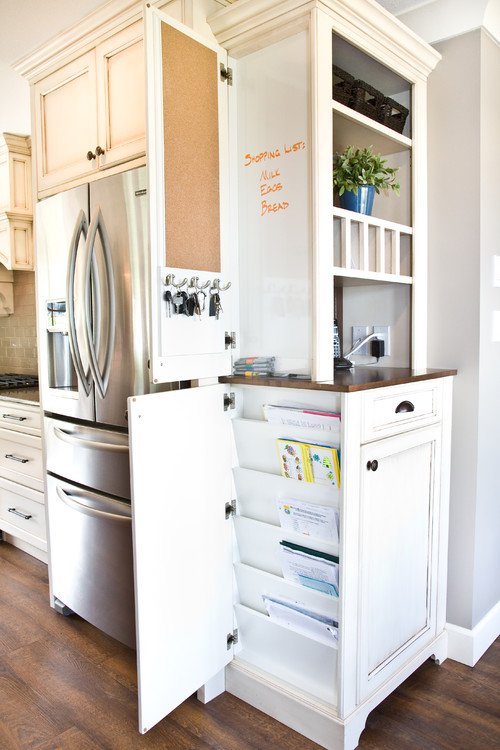 Photo by Starline Cabinets

Your first project is going to be the mound of mail and paperwork that has likely taken over at least some portion of your kitchen counters. Depending on how long you've been letting it pile up (and how likely you are to pitch unnecessary papers), just one 30-minute session should be enough to clear that clutter. Invest in a mail sorter for the counter or wall that will give you a place to put everything you keep—and a way to keep it from piling up again.

Photo by Shelf Confident

According to Haworth, just 30 minutes a day is perfect for cleaning out your kitchen cabinets, one section at a time.
Take the first 30-minute time period to straighten up your pots and pans, making sure everything has a lid, and getting rid of anything you don't use. Next, attack your plates, bowls, and serving ware, followed by cups and mugs, then bakeware, and finally your plastic items. Of course, any items that are stained, cracked, or missing a lid have got to go.
Got an hour?
Joshua Becker, founder of BecomingMinimalist.com and author of "The Minimalist Home," says one of the biggest jobs in decluttering your kitchen is going to take you about an hour.
"The whole point of a kitchen is consuming food, so you've got a lot of consumables in cabinets or in an adjacent closet used as a pantry," he says. Decluttering that space is going to take some time—probably about 60 minutes.

Photo by Organization & Relocation

He recommends you take everything out of the pantry, group like food items together, and relocate anything that doesn't belong there.
Put the food back in a way that makes it easy for you to find things, and use bins or see-through containers to keep everything organized. While you're putting things away, check dates and toss anything that has passed its expiration date.

Photo by Houzz

Do you have another 60 minutes free? Haworth says you should use it to reconfigure all of your small appliances.
"Go through these devices—blender, mixer, coffee maker—make sure that you have all parts, and test the appliances to make sure they still work," she says.
If it's broken and can't be fixed, get rid of it. If it works, but you can't remember the last time you used it, consider donating or selling it.
These small appliances tend to take up a lot of room, and getting rid of just one or two will make a huge difference.
Got two hours?
If you have two hours to spare, Haworth says you should use that time to unload, clean, and organize your refrigerator and freezer. Remove everything, defrost if needed, clean all the shelves with warm, soapy water, and put everything back in a way that makes the most sense to you. Once again, trash anything that's expired. And yes, the forgotten leftovers too.

Photo by True Residential

Whether you tackle your room in one whole day, or 15 minutes at a time, it is possible to declutter your space. Once you do, try to keep it that way.
Take just 15 minutes a day to access the daily damage, and put away anything that's not where it belongs. You'll be glad you did, we promise!
Contact The McLeod Group Network for all your Real Estate needs. 971.208.5093 or [email protected].
By: Realtor.com, Whitney Coy